New York City Cocoa and Carols Holiday Cruise
One of my favorite Holiday Cruises in NYC
·
·
Our Highlight
Add this and other places to your personal travel plan. We will then help you with further suitable suggestions: free of charge and straightaway!
Get comfortable on a 1920s-style yacht for one of my favorite Holiday Cruises in New York City. The New York City Cocoa and Carols Holiday Cruise is one of a kind and does a really good job getting everyone on board feeling festive.
You may also like
Leaving from Pier 62 (Chelsea Piers) the beautifully decorated boat sails through New York Harbor to give you million-dollar views of Lower Manhattan, the NYC Skyline, the Statue of Liberty, passing by Governors Island and the Brooklyn Bridge.
Ticket information
See ticket
Cocoa and Carols Holiday Cruise: What you should know before booking
Celebrate the holiday season in style this Christmas in New York on board a luxury 90-minute yacht cruise of Manhattan Harbor. The Jazz Band on board is fun and so talented which makes the New York City Cocoa and Carols Holiday Cruise even more entertaining. Relax in the heated main observation cabin, join in the caroling, and admire the city through the glassed-in observatory on the 1920s style yacht.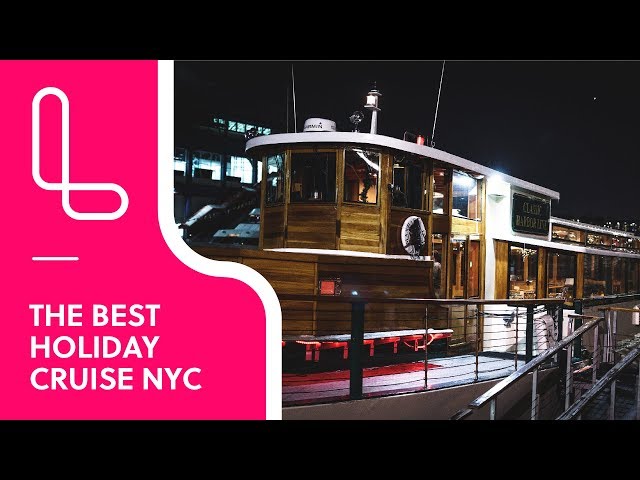 Things you can expect on board
Enjoy delicious hot cocoa (spiked) and Christmas cookies
1 round of complimentary champagne, wine or beer as you listen to live jazz or Christmas carols
A 1920s luxury yacht that is filled with festive lights and decorations
90 Minutes of fun and joy with a small group of friends, family, and loved ones in a very intimate atmosphere
Tickets for the Cocoa and Carols Holiday Cruise
The Cocoa and Carols Holiday Cruise sells out quickly and is only available during the holidays. Secure your tickets ahead of time online so that you get to experience the cruise on your date of preference.
🔥 Brand new! 🔥 Check out our Loving New York Shop with our travel guides (including our Amazon bestseller with 600+ reviews). With them, you'll be perfectly prepared for your New York trip!
About the author
Sabrina
Calling New York City home is still pretty surreal. After moving here 5 years ago, I still see it as my dream life. Ever since I've been exploring this amazing city for Loving New York I've grown to love it even more. I love hooking all of you up with the inside scoop, top attractions, events and everything in between. I'm your go-to person for the hidden gems, best restaurants and the absolute best things to do in the city that never sleeps.
Did you like this article?